Earlier this year, we challenged you to crown the top 4 ships in the 'verse in our annual ultimate aerospace smackdown. This year's Ship Showdown saw a tremendous amount of participation with creative submissions ranging from Lego creations, original songs, 3D prints, machinima, stunning screenshots and more. Once again, the community absolutely delivered incredible creations of all sorts. Thanks to your creative nominations and votes, we were able to narrow the list down to the following four champions, all of which fly away with sweet exclusive goodies.
Anvil Carrack
Anvil Pisces
Crusader Mercury Star Runner
RSI Scorpius
If you have one of these fine vessels in your web-hangar, you'll receive their respective 2952 Best in Show paint at the Intergalactic Aerospace Expo this year, for free.

In addition to the Best in Show Paint, you'll also get an exclusive in-game challenge coin item for each of our top four ships that you have in your hangar.
Plus, to celebrate this year's ultimate champion, all backers will receive TWO in-game ship models of the Anvil Carrack (of two different sizes) to celebrate the ultimate champion of Ship Showdown, along with a fifth Ship-Showdown themed challenge coin. You'll receive the ship models even if you don't have a Carrack.
All coins and the ship model are pictured below: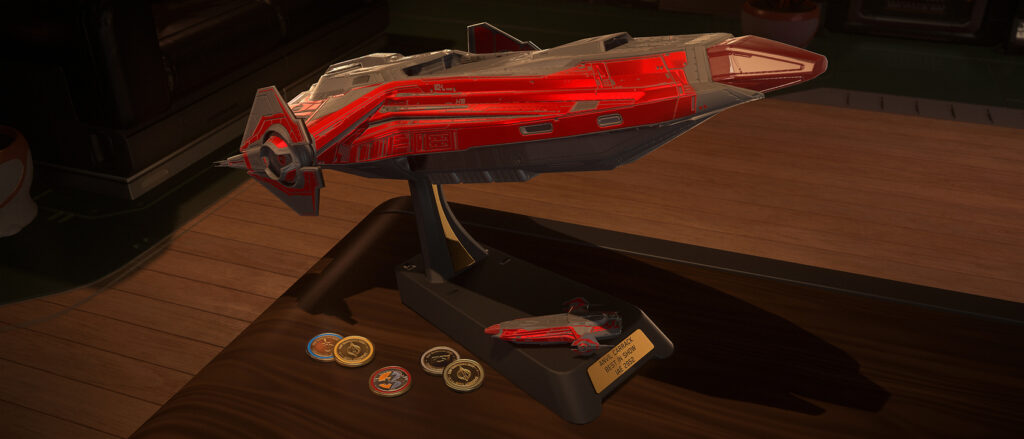 All of these items will be distributed in waves, starting on Best In Show at IAE 2952, on November 27th. This process can take some time, so don't worry if you don't see these items in your hangar right away. As a reminder, prize eligibility requires that the vehicle be in your web-hangar – having them in your Buyback List will not grant you the Best in Show items.
Once you see them in your web-hangars, you'll be able to use them right away in Alpha 3.17.4!
LAST POST