Star Citizen will be free-to-play for the next 13 days (from 18/11/2022 to 30/11/2022), so as to allow everyone to try it and get an idea of what the game will be.
IAE 2952 Free Fly
The Intergalactic Aerospace Expo is back to Tobin Expo Center on microTech and we're celebrating this year's premier aerospace event by launching a Free Fly event. From November 18 through November 30, you have the chance to try some of Star Citizen's most iconic vehicles for free. All you have to do is to create an account, download the game and jump into the fun.
HERE'S HOW IT WORKS
During the Intergalactic Aerospace Expo, anyone can explore Star Citizen's incredible Persistent Universe for free. Even if you don't have a Star Citizen Game Package, you can try it for free and fly to the in-game event in style, as we're providing every account with a starter ship as a loaner for the time of the convention.
Starting on November 18 (4pm UTC), each day a different ship manufacturer will take over one of the expo halls for 48 hours. There's something new to see every day, and nearly everything on display is available to test-fly for free!
YOUR ACCOUNT
In order to become a Citizen of the Verse first of all you need to create an account on the official Star Citizen website. If you register using the button below you will receive 5,000 UEC to use in-game after purchasing the first Pack.
Or when you start the registering use the following code: STAR-GSY5-NKKS for the same reason.
IAE 2952 REFERRAL BONUS
The referral bonus has not been announced. But is on the way, I'm sure.
EVENT PROGRAM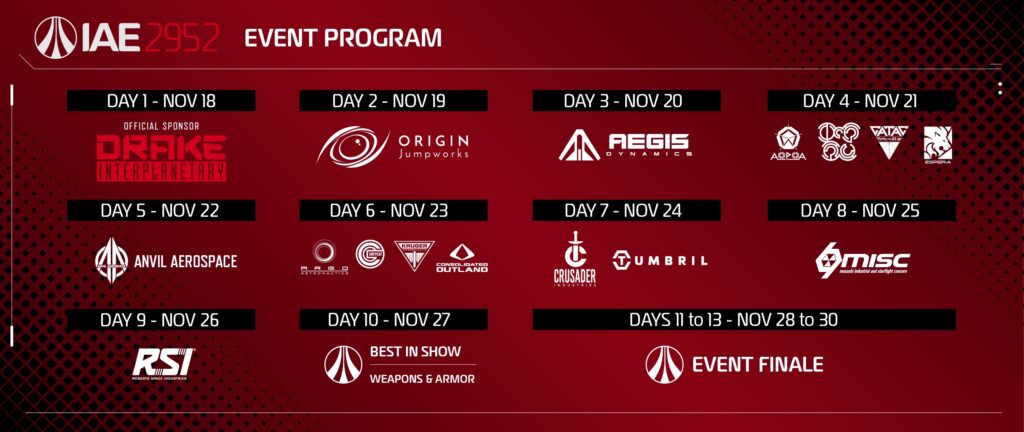 LAST POST